CERMi News
Wednesday

, July 10, 2019
Publications
We are proud to announce that the book "A Research Agenda for Financial Inclusion and Microfinance", edited by Marek Hudon, Marc Labie and Ariane Szafarz, has been published by Edward Elgar.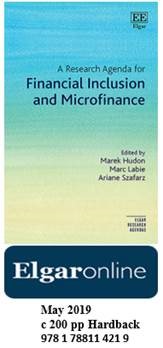 Drawing on renowned experts in microfinance and financial inclusion, this Research Agenda sheds much-needed light on this multifaceted challenge and points the way ahead for future research. Providing a critical and multidisciplinary approach to research in microfinance and financial inclusion, the authors provide a state-of-the-art overview of current scholarly knowledge on the provision of financial services to disadvantaged populations worldwide. Reviewing the literature on the subject from the fields of economics, management science and development studies, they discuss the limitations and challenges of current research and chart avenues for future developments (find more information on: https://www.e-elgar.com/shop/a-research-agenda-for-financial-inclusion-and-microfinance).
---
Thursday

, June 11, 2019
Seminar
CERMi UMons organizes the research seminar
Organizing logics multiplicity in hybrid organizations – the role of organizational culture
by Dr. Alexander Pinz (University of Mannheim)
---
Monday, June 01, 2019
Publications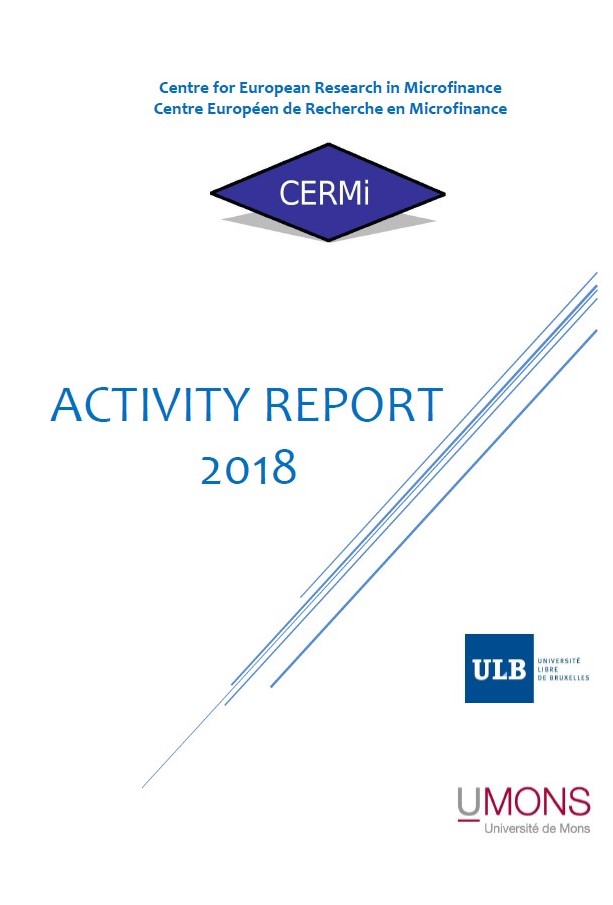 The Activity Report 2018 is available!
---
Friday, January 11, 2019
Award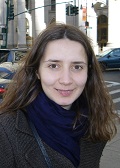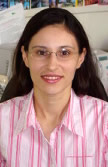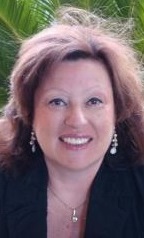 CERMi is proud to announce that the 2019 Warren Samuels Prize was awarded to the article "Too Many Cooks Spoil the Broth: The Conflicting Impacts of Subsidies and Deposits on the Cost-Efficiency of Microfinance Institutions" authored by Anastasia Cozarenco (Montpellier Business School, France, and CERMi), Valentina Hartarska (Auburn University, USA) and Ariane Szafarz (ULB, SBS-EM, Centre Emile Bernheim, and CERMi,
Belgium)
The Warren Samuels Prize is awarded by the Association for Social Economics (ASE) to a paper, presented at the Allied Social Science Associations (ASSA) Meetings, that best exemplifies scholarly work that is of high quality, is important to the project of social economics, and has broad appeal across disciplines.

The rewarded article (https://ideas.repec.org/p/sol/wpaper/2013-280911.html) evaluates how subsidies affect the cost-efficiency of microfinance institutions (MFIs) while accounting for endogenous self-selection into the business models of credit-only versus credit-plus-deposit MFIs. The findings suggest that unsubsidized credit-plus-deposit MFIs have achieved optimal capacity and therefore constitute the most cost-efficient group of institutions. In addition, the unsubsidized credit-only MFIs are the farthest away from their minimum cost. Between the two polar cases, there are subsidized institutions, among which the credit-only ones are closer to optimal capacity. The results reveal the redundancy between subsidization and deposit-taking in microfinance. Combining funds from donors and depositors tends to harm cost-efficiency.
---
Tuesday, September 11, 2018
Publications
Discover our 14th CERMi Newsletter (September 2018)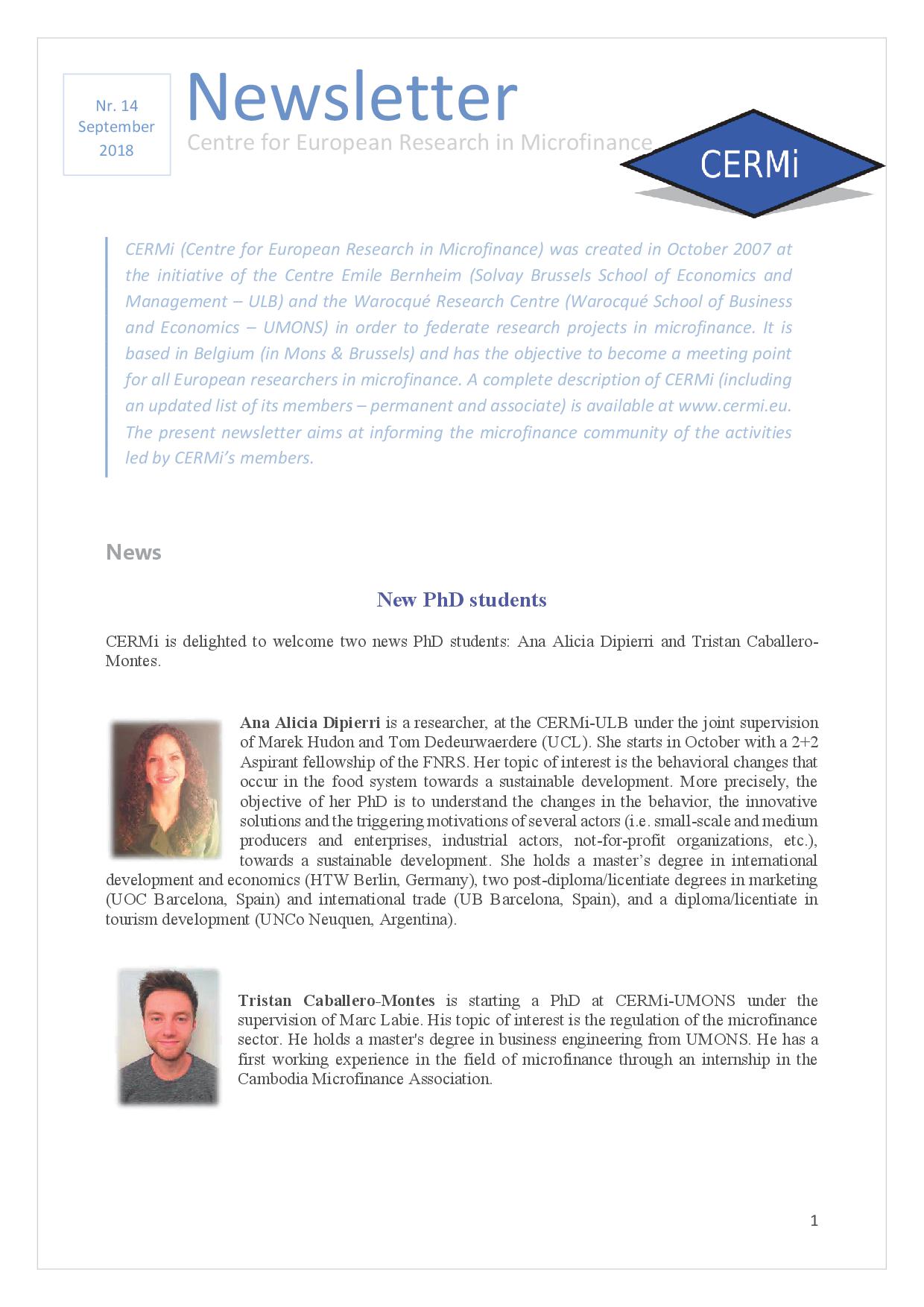 What you'll find in this edition :
Coming events at CERMi
Recent events at CERMi
Awards and prizes
Recent publications by CERMi member
---
Wednesday, August 8, 2018
Public Thesis Defense

"Human Resources in Social Enterprises: The Case of Microfinance Loan Officers"
Cécile Godfroid, CERMi PhD student, will publicly defend her PhD thesis on August 31, 2018, at 3.30pm at the University of Mons (UMONS). The defense will be held in room Hotyat.
---
---
What is CERMi ?
CERMi (Centre Européen de Recherche en Microfinance / Centre for European Research in Microfinance), draws together researchers, involved in microfinance activities in developing countries, from the Centre Emile Bernheim (Solvay Brussels School of Economics and Management, Université Libre de Bruxelles) and from the Warocqué Research Centre (Université de Mons). The CERMi also collaborates with the European Microfinance Programme.
Microfinance provides financial services, including credit, savings and insurance, to poor customers with little or no access to the traditional banking sector. It has come to be regarded as a very important component of strategies aimed at reducing poverty. Over the last decade, the microfinance industry has experienced rapid growth creating a constant demand for new knowledge to help guide its development.
CERMi was created as part of the Académie Wallonie-Bruxelles, with the goal to become an active participant in this process. It aims to study the management of a wide range of microfinance financial institutions, represented by NGOs, cooperatives and commercial companies. Thanks to an interdisciplinary approach, CERMi hopes to make substantive contributions to the body of knowledge on microfinance which will help the industry deal more effectively with its future challenges.
From a microeconomic and managerial perspective, CERMi is undertaking research on institutional aspects including governance and risk management of microfinance institutions, as well as the concept of a client-driven approach toward the development of financial services and products. From a macroeconomic and sociological point of view, CERMi focuses on matters of regulation and local government policy, as well as the roles played by central banks and international donors. Links between microfinance and the traditional banking sector are also analysed, and throughout this research, special attention is given to ethical considerations that are specifically relevant and critical to the evolution of the microfinance industry.