CERMi News
Tuesday, September 11, 2018
Discover our 14th CERMi Newsletter (September 2018)!
What you'll find in this edition :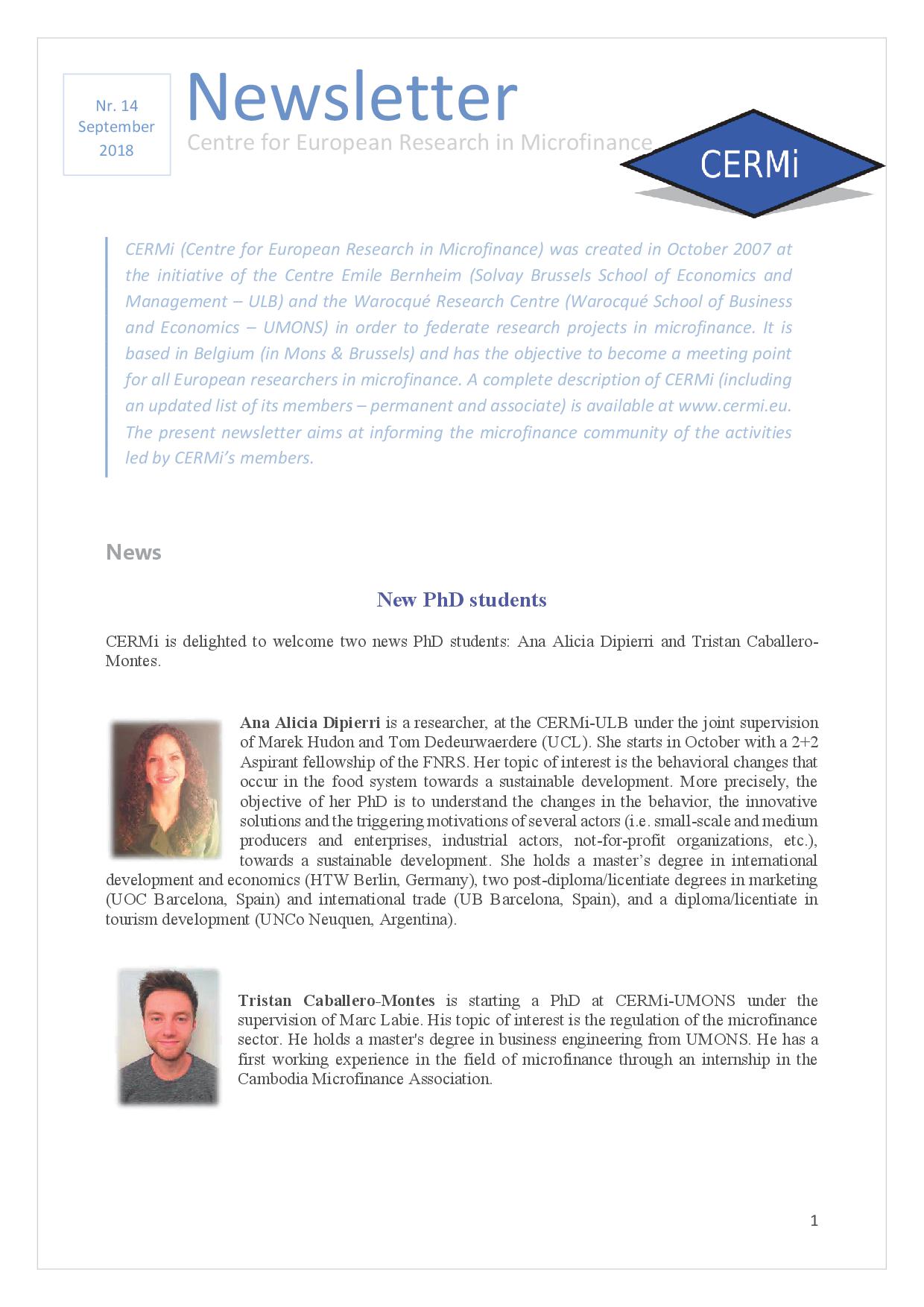 Coming events at CERMi
Recent events at CERMi
Awards and prizes
Recent publications by CERMi members
---
Wednesday, August 8, 2018
Public Thesis Defense:
"Human Resources in Social Enterprises: The Case of Microfinance Loan Officers"
Cécile Godfroid, CERMi PhD student, will publicly defend her PhD thesis on August 31, 2018, at 3.30pm at the University of Mons (UMONS). The defense will be held in room Hotyat.
---
Thurdsay, April 26, 2018
Doctoral Scholarship in Entrepreneurship
and Behavioral Finance
---
Wednesday, April 18, 2018
The Activity Report 2017 is available!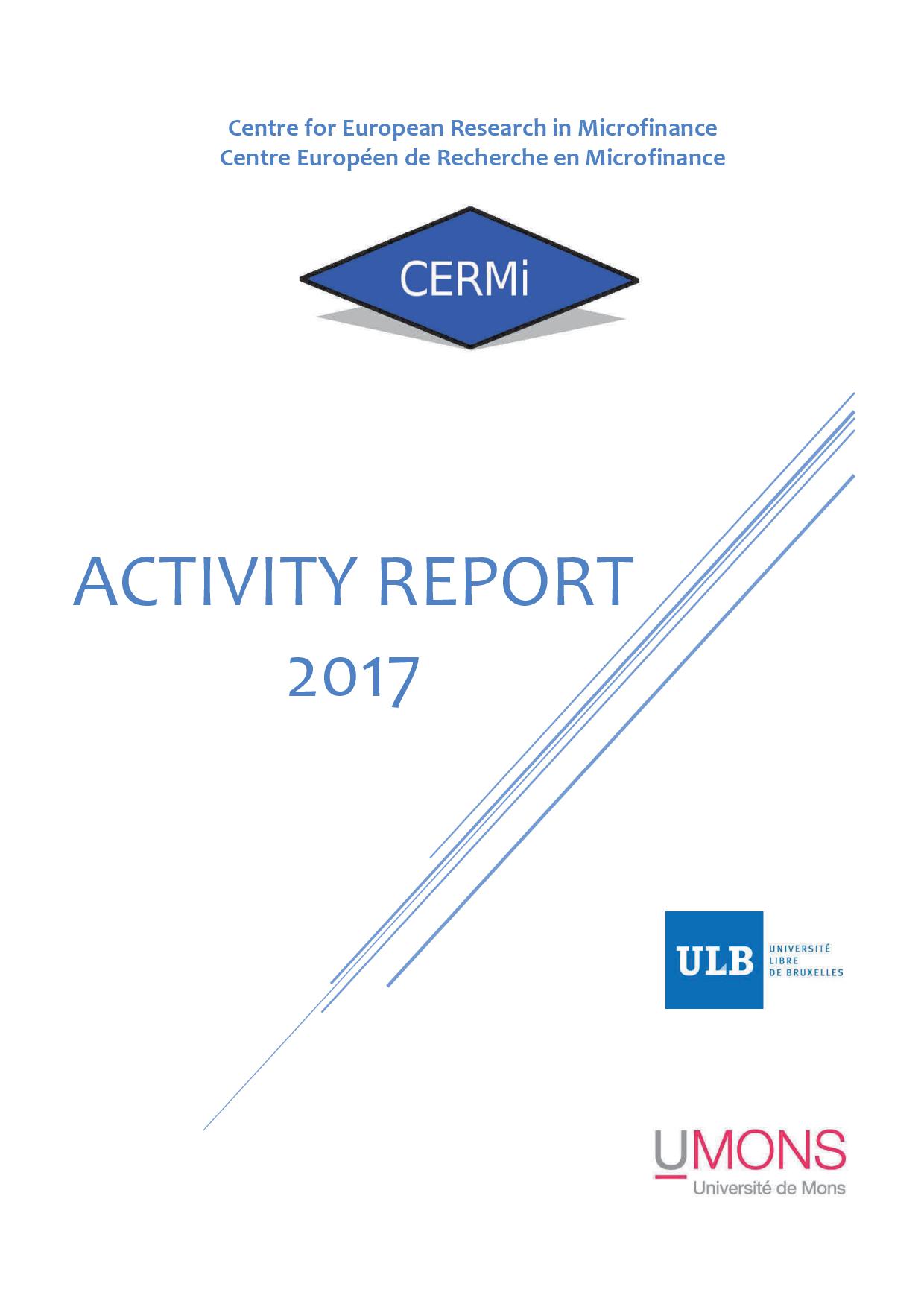 ---
Thursday, February 15, 2018

CERMi is proud to announce that Ephrem Niyongabo, former PhD student, joined the World Bank since February 15, 2018 as Economist for Burundi based in Bujumbura, within the Macroeconomics, Trade and Investment (MTI) Global Practice, East Africa Unit.
Ephrem Niyongabo successfully defended his PhD Thesis in Economics and Management on January 2011, at the Warocqué School of Business and Economics (CERMi - University of Mons).
Prior to joining the World Bank, he worked as Expert Advisor to the Board in charge of Monetary Policy and Financial Markets at the Bank of the Republic of Burundi (November 2015 to mid-February 2018); as Senior Research Economist in Private Sector Development, Regional Integration and Trade Policies at the Institute for Economic Development in Burundi (May 2011 and October 2015); and as consultant and researcher for national and international institutions operating in Burundi (e.g. AfDB, UNDP, ACBF, EU, BTCCTB).
Congratulations to him!
---
Monday, January 29, 2018
Public Seminar:
"Corporate Governance in Microfinance"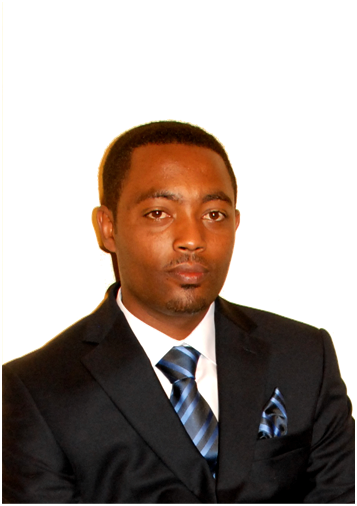 Muluneh Hideto Dato, CERMi PhD student, will present his Public Seminar on February 1, 2018, at 2.00pm at the Solvay Brussels School of Economics and Management (ULB, Brussels). The seminar will be held in room R42.2.110.
The Public Defense will be held on February 8, 2018, at University of Agder (Norway).
---
Thursday, December 14, 2017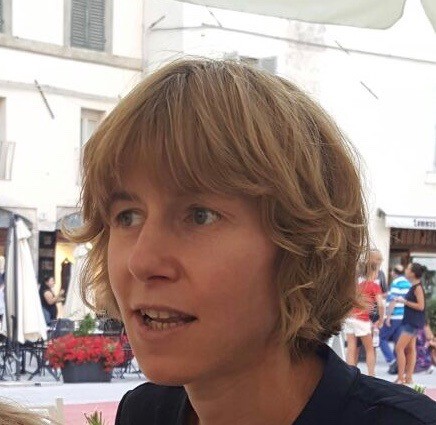 CERMi is proud to announce that Carolina Laureti, who did her PhD at CERMi and a Postdoc both at UC Berkeley and at CERMi, will be a Lecturer at the University of Groningen (Department of Economics, Econometrics, and Finance) in The Netherlands, starting from January 15, 2018. Congratulations to Carolina!
---
Tuesday, November 21, 2017
Call for papers for a special issue in Journal of Business Ethics on The Ethics of the Commons. Guest Editors: Helen Haugh, Marek Hudon (CERMi co-director), Camille Meyer (CERMi former PhD Student and current Associate Researcher) and Ana Maria Peredo.
More information here
Submission deadline: 15 December 2018
---
Tuesday, November 14, 2017

CERMi is pleased to announce that Camille Meyer, a Former CERMi PhD student, has received from the FIR-PRI AWARDS Finance and Sustainability the Best PhD Thesis 2017 Award for his thesis "Social Finance and the Commons". For information: http://www.fir-pri-awards.org/awardees#2017-best-phd-tab
---
Tuesday, October 31, 2017
CERMi is pleased to announce that the first e-learning on Green Microfinance is now online on the e-MFP Microfinance and Environment Action Group webpage:
http://www.e-mfp.eu/actions-groups/microfinance-environment
The e-learning provides an introduction to the various dimensions of green microfinance and it presents, in an interactive way, some of the existing tools, projects and research results in this innovative sector of inclusive finance. The e-learning is addressed to all stakeholders, including researchers and practitioners, interested to know more on the green side of inclusive finance. Some exercises and an interactive quiz are also proposed.
We are proud to announce that the e-learning on Green Microfinance has been developed by CERMi associate researchers: Marion Allet and Davide Forcella for University Meets Microfinance.
The e-learning is freely available. To receive login and password, please email e-MFP at: contact@e-mfp.eu.
---
Wednesday, October 25, 2017
CERMi is pleased to announce that Cécile Godfroid, a CERMi PhD student at University of Mons (UMONS), has received from ADA the Best Research Paper Award at the Research Meets Africa (Addis Abeba, ET) for her paper "Relationship Lending in Microfinance : How does it Impact Client Dropouts?".
For information: https://www.linkedin.com/company/3077282/
---
Monday, September 18, 2017
New article in Oxford Development Studies by CERMi researchers Marc LABIE, Carolina LAURETI, and Ariane SZAFARZ:
"Discipline and Flexibility: A Behavioural Perspective on Microfinance Product Design"
---
CERMi (Centre Européen de Recherche en Microfinance / Centre for European Research in Microfinance), draws together researchers, involved in microfinance activities in developing countries, from the Centre Emile Bernheim (Solvay Brussels School of Economics and Management, Université Libre de Bruxelles) and from the Warocqué Research Centre (Université de Mons). The CERMi also collaborates with the European Microfinance Programme.
Microfinance provides financial services, including credit, savings and insurance, to poor customers with little or no access to the traditional banking sector. It has come to be regarded as a very important component of strategies aimed at reducing poverty. Over the last decade, the microfinance industry has experienced rapid growth creating a constant demand for new knowledge to help guide its development.
CERMi was created as part of the Académie Wallonie-Bruxelles, with the goal to become an active participant in this process. It aims to study the management of a wide range of microfinance financial institutions, represented by NGOs, cooperatives and commercial companies. Thanks to an interdisciplinary approach, CERMi hopes to make substantive contributions to the body of knowledge on microfinance which will help the industry deal more effectively with its future challenges.
From a microeconomic and managerial perspective, CERMi is undertaking research on institutional aspects including governance and risk management of microfinance institutions, as well as the concept of a client-driven approach toward the development of financial services and products. From a macroeconomic and sociological point of view, CERMi focuses on matters of regulation and local government policy, as well as the roles played by central banks and international donors. Links between microfinance and the traditional banking sector are also analysed, and throughout this research, special attention is given to ethical considerations that are specifically relevant and critical to the evolution of the microfinance industry.